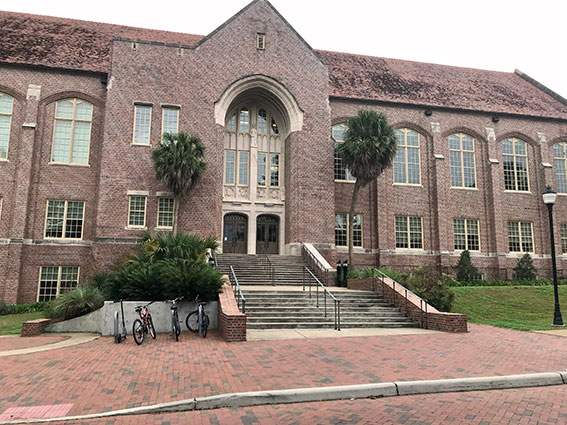 On 16 and 17 January 2020 I presented my PhD research at the AMPS (Architecture Media Politics Society) research group conference at Florida State University in Tallahassee.
Conference theme:
'Experiential Design – Rethinking relations between people, objects and environments.
From the AMPS website:
Design context:
Where once design and the arts may have been confined to the 'straightforward' creation of objects, places and similar elements, today we have the knowledge to transcend mere physicality. The experience economy challenges us to move from reactionary to initiatory modes, moving us from questions of problem solving and object making to our potential to serve as catalysts, releasing potential energy, activating thought and affecting change from those who engage with the objects and spaces we design and make.

Experiential design, situational design and Xbd (experience by design), are all examples of this expanding reality for the art, design and spatial sectors. Within this context, it is clear that art, design and space influence, reflect, react to and sometimes distort life experience. This is evident across sectors and scales making the relationship between designer-maker, designed object and user or client complex and varied.
Provocations for Designers, Architects & Artists:
This conference brings together designers and artists of all kinds to celebrate and share strategies, compare practices, and advance dialogue about art, designed objects, interiors, environments and their relationship with people. On this basis it welcomes contributions from multiple disciplines: interior design, architecture, art, furniture, graphics, product design, textiles, app design and more.

Examples of questions that may be asked include, but are not limited to:

How do interiors and buildings impact on mood, wellbeing and learning potential? How do artists, product and furniture designers shape experience and meaning? How should artists and designers communicate the intentions of their work? What skills and principles best serve us in the experience economy?
How does public art, buildings and spaces influence human interaction? How do interior designers engage users in design, visualization and feedback? How do graphic designers monitor the effects of their work in different contexts? What effect do furniture designers have on bodily health and spatial experience?

How do architects understand the impact of buildings on diverse users – from patients in hospitals to children in classrooms? How is body and ergonomic simulation effecting the practice of product design? What role do artists see for the public in the act of creation and making? How do exhibition designers engage with studies about the psychology of attention?
Paper abstract
Inhabiting the public interior: the critical role of personalisation in imparting quality to public life.
The ability to connect emotionally to our environment is fundamental to human experience. Architects, designers, urbanists and environmental psychologists have explored spaces from the perspective of experience, to understand why certain places make people feel alive and human, and how to design environments that resonate with human sensibilities. A significant body of research focuses on urban public spaces and shows that the quality of the public realm can impact on place experience, social cohesion and the quality of life in cities. Cities need public spaces people can connect to emotionally to build liveable communities. As a shared destination, the public interior is an extension of the public realm and fundamental to our experience of the city because it also contributes social values and impart qualities to urban life. Yet, qualitative research on public interiors is fragmented, with few insights on how they can contribute to the quality of human experience.
In this context, this paper asks how the public interior can colour public life by providing opportunities for people to personalise spatio-sensory experiences, nurturing emotional relations between people and their environment. The concept of personalisation is defined here as the way in which people can shape their experience of the public interior around their needs and desires to enable them to define personal territories. Thus, the research explores the critical role of personalisation in imparting qualities to public life by investigating how the design and management of the public interior can contribute to people's ability to personalise their experience of the interior. It focuses on the public interior of the Royal Festival Hall, a cultural venue in London UK, because its ownership, design and managerial culture present distinctive characteristics that can nurture opportunities for personalisation and enable individuals to comfortably inhabit the public interior.
Keywords: public interior, experience, personalisation, emotion, connection.
Article publication reference: Mace, Valerie. "Inhabiting the Public Interior. An Exploration into the Critical Role of Personalisation in Imparting Quality to Public Life" In: Y. McLane & J. Pable (eds.), AMPS Proceedings Series 18.2. Experiential Design – Rethinking relations between people, objects and environments. Florida State University, USA. 16 – 17 January (2020). pp.25-35